ZUTOM specializes in issues of e-mail services for several years
We teamed up international know-how with our regional experience with mail delivery.
GraphicMail is a professional tool suitable for email and SMS marketing with integration to social networks.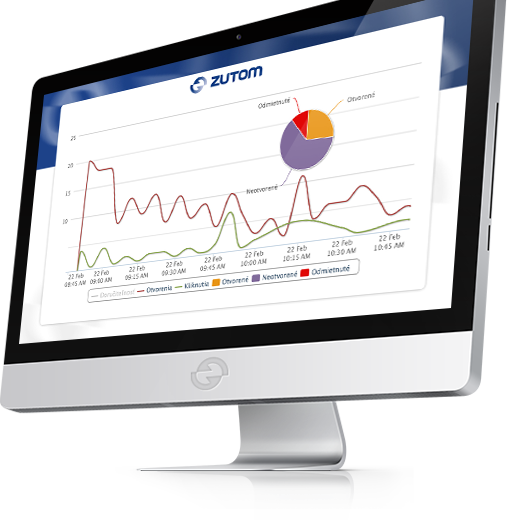 10+ functions
GraphicMail is used to create newsletters and reliable sending of bulk email and SMS campaigns.
The application also enables efficient processing of lists of email addresses and tracking statistics of sent campaigns.
Companies of all sizes
The solution is operated as a web service and sold in various editions by firm size.
You can choose edition for small and medium businesses, for corporations or version for advertising agencies.
Also agency version
Internet advertising agencies may sell GraphicMail as their service marked their own logo and own URL.
Agency may establish subaccounts to its customers and assign rights to track and manage their campaigns.
Inbox preview before sending and contact management/h3>
You could see how newsletters will look for someone who opens them before sending.
Your own email campaign
Design of newsletters is possible to tune in editor. Preview before sending for more than 30 different email clients.
More than 100 free templates or you can import your own.
Quick overview of contacts
GraphicMail can identify which addresses are valid and which users are opted out from receiving your emails.
Thanks to this you always have an overview of the contacts. Invalid addresses are automatically removed.
Segmentation of data
GraphicMail allows you to send targeted campaign to segments that meet a certain profile.
For example is possible to send campaign only to married women aged 25 to 35 years old who love cooking.
High deliverability and measuring of results
GraphicMail has built strong server infrastructure for sending, so the emails don't fall into the spam folder.
Emails are delivered
To high deliverability also helps that we have concluded an agreement called white listing with leading ISPs.
For example, Google, AOL, MSN / Hotmail, Yahoo or local freemail providers like. post.sk.
Statistics for better feedback
Thanks to the statistics you can see the number received, undelivered, open or forward the message.
There are also statistics on the amount of messages shared on social networks, the number of clicks on each link in the newsletter and other statistics.
Heatmap will disclose visitor behavior
The service contains heatmaps. The user will know on which specific line customer clicked in the newsletter.
Immediately you have clear information, such as how many people unsubscribe or info of sharing on social networks.
Localization in Slovak
GraphicMail is completely localized to the Slovak language.
We offer support via email, live chat, phone and skype.
Integration to social networks
The advantage is the possibility of linking newsletters with social networks (Facebook, Twitter).
Subscribe form for the newsletter can be created directly on the site, or Facebook fanpage.
Mobile marketing
Mobile marketing allows you to send bulk sms from the internet.
Every third person in the world own a mobile phone. SMS is the ideal way to always be in contact with those who are not connected to a network.
Are you interested in this solution? Want to know more? Please contact us.